Nicole F. Steinmetz, Ph.D.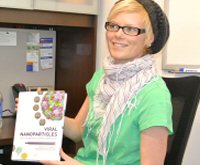 is an Associate Professor of Biomedical Engineering at Case Western Reserve University, where she is leading a research laboratory interfacing biomolecular engineering approaches with medical research, technology development, and materials science. Dr. Steinmetz trained at The Scripps Research Institute, La Jolla, CA, John Innes Centre, Norwich, UK (PhD), and RWTH-Aachen University in Germany (Masters). Dr. Steinmetz won a 2016 American Cancer Society Research Scholar Award, was named a 2015 Young Innovator of Cellular Molecular Engineering, she was a 2014 Crain's Cleveland Business 40 under 40 honeree, was named 2011 Mt. Sinai Scholar, she is a 2009 recipient of the NIH Pathway to Independence Grant, a previous American Heart Association Post-doctoral Fellow (2008-2009) and Marie Curie Student Fellow (2004-2007). Dr. Steinmetz has authored more than 100 journal articles, reviews, and book chapters; she has authored and edited books.

Knight & Brinegar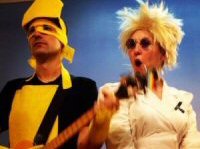 is a retro-forward writing team consisting of experimental playwright Krista Knight and Davidís Pegasus' Barry Brinegar. Our work includes the 19th century grand Guignol SALAMANDER LEVIATHAN (Joe's Pub at the Public Theatre, Ars Nova ANT FEST, Fingerlakes Musical Theatre Festival, Inkwell, KCACTF Musical Theatre Award from the Kennedy Center), the apocalyptic surf-rock musical DOOMSURFING (Parkside Lounge, Flea Theatre, UCSD workshop), the holiday plays THE SNOWMAN FROSTY and BLOOD ELVES: POLAR JUSTICE (Ensemble Studio Theatre), COACH DARLING (F*it Club, Williamstown Theatre Festival), and the multi-media nanotechnology collaboration with Dr. Nicole F. Steinmetz THE NANOMAN. Our plays for young adults include the Icarus/Daedalus adaptation LIGHT EMBRACE, the post-punk Medusa adaptation HISSIFIT (Berkeley Rep), and the Hee Haw Orwellian allegory for middle schoolers CORN COBBERS (SF Friends School).